Take your pet to the dentist at least once a year
Read Time: 3 minutes
Oral health is just as important to pets as it is for humans. Without proper oral health care, bacteria that grow on their gums could negatively impact their health. Even if your pet doesn't like to have their teeth cleaned, it's essential.
How Often Should You Take Your Pet to the Veterinary Dentist?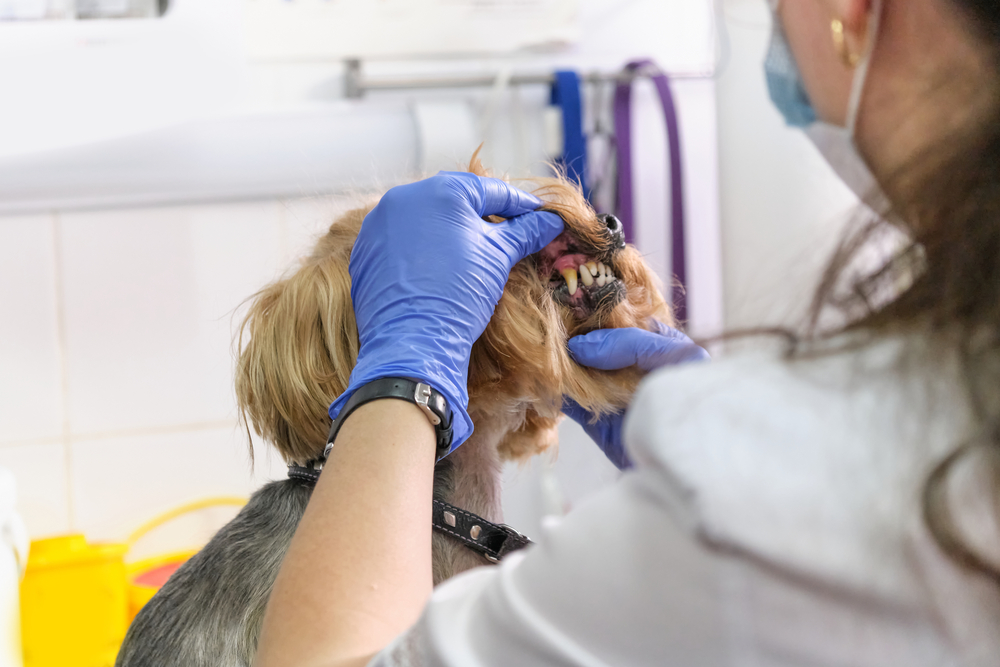 You should have your pet's teeth cleaned by a veterinary dentist typically once a year. However, depending on your pet's health, your vet might recommend a different time frame. Usually, pets see the veterinary dentist between every six months and every two years.
Can Your Veterinarian Be a Dentist?
Some veterinarians may be qualified to offer full dental services to pets, but not all are. There are special qualifications that a veterinarian would need to earn to become a veterinary dentist. Talk to your vet to see if they offer dentistry services. If they don't, then they should be able to recommend a veterinary dentist to you.
What Is a Veterinary Dentist?
A veterinary dentist is a veterinarian who has specialized in dentistry. Typically, they're certified with the American Veterinary Dental College. A veterinarian who isn't certified in dentistry may still be able to perform regular cleanings but might need to refer you to a veterinary dentist for more complicated procedures. Even if your vet can't do cleanings, they can usually keep an eye out for any dental issues.
When Should Your Pet Have Their First Dental Appointment?
Cats should have their first dental appointment by the time they're a year old. Dogs don't usually need their first dental appointment until around two or three years old. Be sure to follow the advice of your veterinarian, however. They may feel that your pet should have their first cleaning earlier if their health warrants it.
What Does a Pet Dental Cleaning Entail?
A dental cleaning for pets is usually performed under general anesthesia. This is because your pet may not like having their teeth examined and cleaned and it's important for the vet to be able to thoroughly examine and clean your pet's teeth. Just like in a human dental appointment, the dentist will clean and polish the teeth and, if necessary, take x-rays.
What Dental Care Should You Do for Your Pet at Home?
An annual cleaning is important for keeping your pet's teeth healthy. However, it's not the only dental care your pet will need.
Gently Clean Your Pet's Teeth
You can clean your pet's teeth yourself at home with a soft toothbrush. Doing so three times a week can help to keep your pet's teeth healthy throughout the year.
Give Your Pet Oral Health Treats and Toys
There are certain treats and toys that are designed to be good for your pet's teeth. These can be enjoyable for your pet while helping to keep their teeth clean and well-maintained.
Keep an Eye out for Dental Problems
The following are symptoms of dental issues that you should keep an eye out for:
Cracked teeth
Loose teeth
Bad breath
Discolored teeth
Refusing to eat
Reduced appetite
Swollen gums
Bleeding gums
If you notice any of the above symptoms, you should take your pet to the dentist right away for an exam.
Take Your Pet to Regular Vet Appointments
Whether your vet offers dental services or not, they should be able to look for any possible dental problems that could warrant further treatment.
Need Veterinary Care for Your Pet?
Contact us to schedule an appointment.