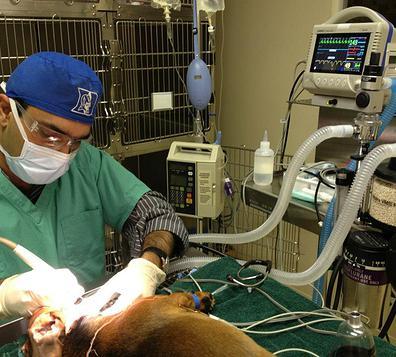 Do you brush your teeth every day? See a dentist regularly for a checkup and cleaning? Most people answer, "Yes," to these questions. But you may get a different answer when asking about pet dental care. Proper dog dental hygiene is just as important for your pet's health as regular dental care is for yours. A dog can only chew toys or dental treats to try to keep its teeth clean. But these measures aren't as effective as daily brushing and professional cleaning.
What about your cat? Dental hygiene is important for your feline too. Your pet needs cat dental services just as much as dogs. Your cat's teeth should be brushed daily. And adult cats need their teeth cleaned professionally at least once per year.
You can take care of your pet's dental health at Windermere Veterinary Services.  We offer a range of veterinary dental services for both cats and dogs. Our treatments are designed to prevent periodontal disease and promote your pet's long-term oral health.
Tartar build-up on your pet's teeth can cause bad breath and ugly stains. That's no fun for your pet or you! But there are even more important reasons to keep your pet's teeth clean. Without proper dental care, cats and dogs can develop periodontal disease. Left untreated, your pet can suffer from chronic pain, eroded gums, missing teeth and bone loss. Periodontal disease can also cause a number of other serious health problems such as heart, kidney and liver disease.
The good news is that periodontal disease can be prevented with regular dental care from Windermere Veterinary Services. Talk to our friendly and knowledgeable staff about treatment options for your pet. Schedule an appointment today by calling 407-217-7635.