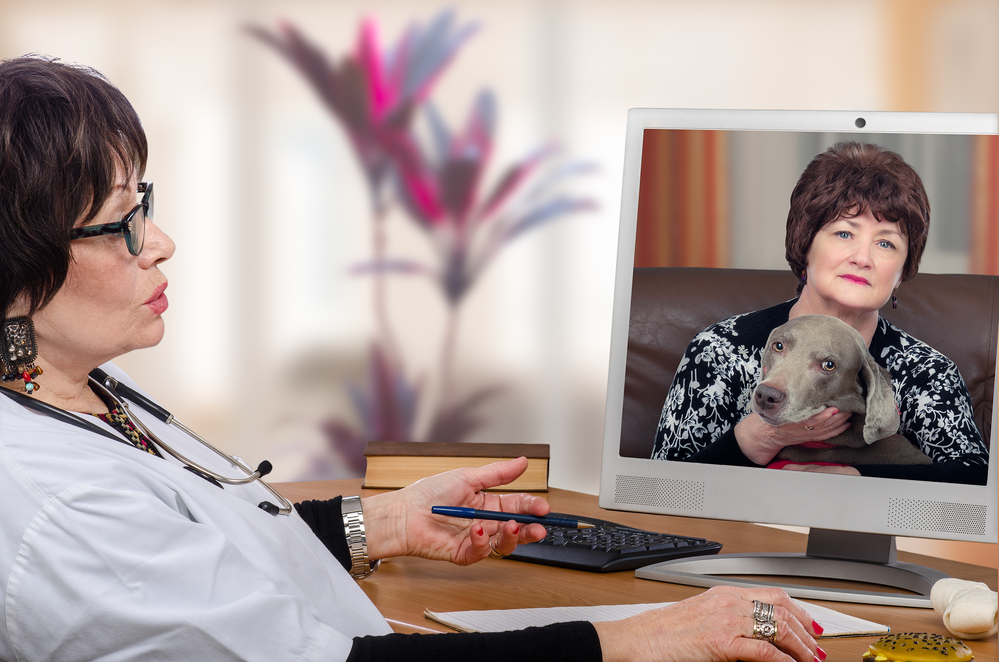 Virtual healthcare has become increasingly popular in the wake of the COVID-19 pandemic. But it's not just human healthcare that has been affected. Veterinary care has also become increasingly virtual. Even as the pandemic winds down, virtual veterinary care remains a popular option.
Telemedicine is much more convenient, especially when pets are concerned. Instead of having to bring a fearful dog or cat into the vet's office, many visits can instead be conducted remotely via a videoconference. Some visits will still need to be conducted in person, such as those for vaccinations, but many questions that pet owners have can be answered more conveniently via a virtual appointment.
AVMA and AAHA Release 2021 Guidelines for Veterinary Telemedicine
In February of 2021, both the American Veterinary Medical Association (AVMA) and the American Animal Hospital Association (AAHA) released guidelines for veterinary practices that wanted to either start offering or improving existing virtual veterinary services. With the increase in virtual vet appointments during the pandemic, the AVMA and AAHA sought to help veterinary practices integrate technology and telemedicine into their regular operations.
The Steps of Integrating Telemedicine
The AVMA and AAHA guidelines outlined seven steps for veterinary professionals to follow in integrating telemedicine into their practices. These steps include:
Identify someone to be your telehealth champion
Determine your needs and look for opportunities
Develop a service plan
Design your telehealth workflow
Prepare both your clients and your team
Implement the new telehealth program
Evaluate the program and find areas of improvement
1. Identify Your Telehealth Champion
The first step is to identify someone to be the virtual medicine champion. This person is the one most excited by the technology and will be the energy behind the program. The champion can be the one to select the technology used and help get the rest of the practice excited about implementing telemedicine.
2. Determine Your Needs and Look for Opportunities
The technology used for telemedicine can have a wide range of different applications. Before choosing a specific technology to invest in, it's a good idea to have the entire team meet to discuss the needs of different departments and where they may be more opportunities to use it.
3. Develop the Service Plan
The third step is to make a decision on which telecommunications services you're going to use. The choice should be based on the needs and opportunities discussed in step two. Then, determine what will be needed within your organization to implement the telecommunications technology that you've selected.
4. Design Your Telehealth Workflow
The fourth step in the process is to modify your current workflow to incorporate the new telehealth services. This will include determining which workspace and exam spaces will be used for telemedicine and which will be reserved for in-person evaluations. You'll also need to plan your schedule and communications.
5. Prepare Your Clients and Team
You'll need to make sure your entire team is on board with the new services and know what has changed in the practice and their duties. But implementing telehealth services is useless unless your clients are also on board. You'll also need to inform clients of the new telemedicine options and encourage them to use them.
6. Implement the Telehealth Services
The sixth step is to fully implement your new telemedicine services. At this point, your team and clients should be on board and the system should have been tested and tweaked.
7. Evaluate and Improve Your Program
Nothing is perfect on the first try. As you begin to use your telehealth program with clients, you'll need to evaluate how it's working. Make notes of any areas of possible improvement and then implement changes as needed so that the system works best for both you and your clients.