Grapes have puzzled many veterinarians due to their individual level of toxicity for dogs. While grapes can be a healthy snack for humans, in dogs the risks outweigh any potential benefits. Dogs may enjoy eating some other fruit variations such as watermelon, apples, or bananas, however, grapes are strictly off-limit for dogs and can cause kidney failure, or in some cases even death.
Why Are Grapes Toxic for Dogs?
It's believed that the acidic compounds mycotoxin and tartaric acid can be toxic for dogs. Unlike humans, dogs have a genetic sensitivity to these acids and have trouble breaking them down properly.
How Many Grapes Are Toxic to a Dog?
The amount of toxicity present in a dog's system depends on its size. One grape per ten pounds of body weight should be considered an emergency. This means that consuming even a handful of grapes could be fatal, let alone an entire bag. However, prompt veterinary treatment may be able to save a dog's life.
What Are the Symptoms of Grape Toxicity?
After a dog consumes a grape, there can some very quick, initial symptoms. These early symptoms typically include increased urination and drinking more than normal. The rest of the signs of grape toxicity usually don't show up for at least 24 hours but may take as long as 48 hours to appear. These symptoms include:
Vomiting
Diarrhea
Lethargy
Dehydration
Bad Breath
Abdominal Pain
Loss of appetite
Follow These Steps if Your Dog Has Consumed Grapes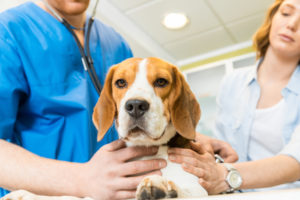 If your dog has consumed grapes, be sure to take these steps are taken into account to help your dog heal in a timely manner.
Contact Animal Poison Control
Immediately after finding out your dog consumed some grapes, you need to call animal control. Animal poison control can help you assess how much was consumed and what to do at that very moment. Time is of the essence if a dog consumes grapes, so the sooner you can contact an outside authority for assistance, the better.
Clean Up Your Surroundings
After you've called animal poison control for immediate help, make sure that any other grapes are safely put away. If you don't act quickly, more grapes could be consumed and worsen the health of your dog. Clear your surrounding of any grapes or other harmful substances that can be toxic to your furry friend.
Ask a Veterinarian
When in doubt, ask a veterinarian. No matter the number of grapes that were consumed, you will need to consult with a veterinarian for proper testing. This will give you peace of mind on whether your dog is safe and healthy or if something is wrong, find a treatment that suits your pup's condition.
Follow Your Veterinarian's Recommended Treatment
Treatment is necessary in many cases of grape toxicity. If your vet determines any treatment protocol necessary to save your dog or protect them from future harm, it could be a life or death scenario.
How Do Veterinarians Treat Grape Toxicity?
If a large number of grapes have been consumed, a vet may proceed with treatments such as:
Intravaneous Fluid Administration
Activated Charcoal
Inducing Vomiting
Don't Try Healing Your Dog Yourself
Don't try to handle grape consumption situations by yourself. Food toxicity is very dangerous to dogs and isn't something you should attempt to treat on your own. Always consult a professional to examine your pet and determine the best course of action for treatment.
Do Grapes Cause Permanent Damage to Dogs?
The damage done to dogs after consuming grapes is irreversible. Certain acids in grapes can damage a dog's kidneys, which can be fatal. Even if prompt treatment saves your dog's life, the kidney damage will likely still be apparent. It's best to prevent your furry family member from getting their paws on such dangerous foods in the first place to avoid long-term health problems