Help your puppy to feel right at home
Read Time: 7 minutes
Preparing for a puppy is an exciting, overwhelming period of time. With so many items on the market in the $225+ billion dollar pet care industry, there's no shortage of options. When you first bring your puppy home, it's best to have the essentials prepared in advance. At the very least you should prepare food, bowls, a crate, and a bed for your puppy.
You'll also need to consider your budget for extra non-essentials, preparing for medical milestones, and planning for other factors like training.
Pet Care Essentials for Puppies

Certain supplies, like water bowls and a leash, are unavoidable expenses when it comes to bringing home a new puppy. It's best to prepare these essentials before you bring your puppy home.
Make sure you double-check any products to ensure they are suitable for a puppy. Some products, like shampoos, are better suited for older dogs. When in doubt, check the label.
Crates
If you have a large breed puppy, there's a good chance you'll go through multiple crates throughout their first year. You have one of two options:
Start with a crate that matches the expected adult size of your dog.
Buy crates as your puppy grows.
While buying crates as your puppy grows will be more expensive, it's more effective for housebreaking. You don't want to give your tiny puppy a crate meant for a full-grown great dane. Dogs tend to avoid soiling their sleeping space. By using a crate big enough only for them to stand up and turn around in you can expedite their potty-training.
Remember: While a smaller crate will help with potty training, your puppy is still learning to control their bladder. Do not leave them in a crate for extended periods of time as they will be likely to have an accident.
Here are three recommendations:
Dog Bed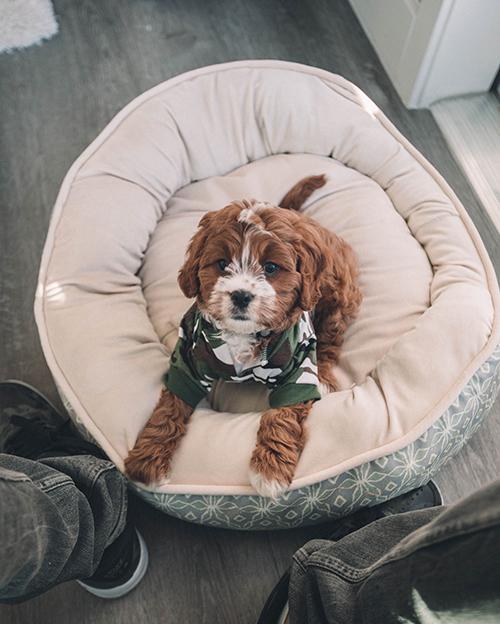 Purchasing a dog bed can be quite an event given the sheer number of options and factors. Your best bet to investing in the right bed from the start is to observe how your dog sleeps and determine where in your house the dog bed will be situated.
Dog bed options include:
Mats
Donut beds
Bolster-style beds
Hammock beds
Cave-style beds
Nest beds
Pillow beds
Determine a budget before you begin shopping as dog beds can easily cost over $100 depending on your preferred type and size.
Here are three options:
Puppy Food
Make sure you select a reputable brand of pet food specially formulated for puppies. You don't want to use an adult formula for your puppy because puppies need more protein in their diet. You'll find a higher percentage of protein in puppy formulas compared to adult formulas.
Brands commonly recommended by veterinarians include:
Hill's Science Diet
Royal Canin
Purina ProPlan
Before you start your puppy on a completely new food, find out what they were being fed before you brought them home. You'll want to slowly move them over from the food they were eating to avoid causing diarrhea.
After you determine which puppy food you're going with, check the label for feeding instructions. If the bag doesn't include suggested servings and frequency, consult with the standard recommended amount for your puppy's size and age.
Here are common food options for puppies:
Note: Speak to your veterinarian before starting your puppy on a new food if you have any questions or concerns.
Collar & Leash
A flat dog collar made of nylon can be an affordable, easy-to-clean option for puppy owners. They are easy to adjust as your puppy grows. This makes it easier to keep your dog in the same collar for longer. Other options for collar material include leather and cotton.
You can use a nylon, leather, or cotton leash alongside your collage. Another option is retractable leashes. These are common options for small dogs. But, many dog trainers advise against them as they can teach your puppy to pull.
Get started with these collars and leashes. Just make sure you take measurements of your puppy to ensure a good fit when ordering online:
Food & Water Bowls
You can't expect your puppy to lap water off the floor. You're going to need some food and water bowls.
Plastic bowls are easy to find and affordable, but they aren't necessarily the best bowls for your puppy. Plastic bowls can be easily scratched, leaving spots for bacteria build-up. Ceramic bowls are a better alternative but can still easily break and crack resulting in the same problem.
Your best option is to invest in stainless steel dog bowls. These are easy to clean, usually dishwasher safe, and often have a rubber base to avoid spillage.
You'll also want to look into collapsible or portable doggy bowls. These will come in handy when if you and your pup go for long walks, go on hikes, or spend long hours away from home. You never want to be in a spot where you can't provide your pup with water if needed.
How to Slow Down Puppies Who Eat Too Quickly
If your puppy eats too quickly it could result in indigestion, gas, and vomiting. If you notice your puppy scarfing down their food it might be time to buy a slow feed bowl. These bowls come in plastic or stainless steel and have ridges designed to slow down fast eaters.
Check out these common food and water dish options:
ID Tags
If your puppy wanders off you'll want an easy way for people to identify them. While microchips are the best way to identify your puppy, ID tags on their collar are more easily accessible for whoever finds them.
Make sure you include the following information on your puppy's ID tag:
Pet's name
Your cellphone number
Your address
ID tag machines are commonly found at local pet shops and pet store chains.
Try these options:
Take an extra step. Microchip your puppy.
Dog Waste Bags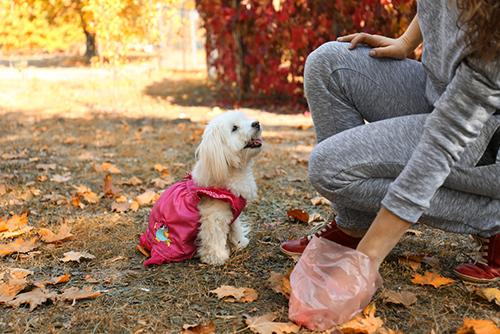 If you walk your puppy in a common outdoor area, dog park, or other public location, you'll need dog waste bags. If you're concerned about the eco-friendliness of using a number of these waste bags on a daily basis, you can search for biodegradable alternatives.
Puppy Training Pads
Potty training your puppy requires frequent trips outside. But for when you don't make it in time, you'll want to protect your flooring from your puppy's accidents. Check that the puppy training pads brand you select is odor absorbent, leak-proof, has adhesive, and has a quick-drying top layer.
Try these puppy training pad brands:
Affordable: ASPCA Ultra Absorbent Training Pads for Pets
Eco-friendly: KOOLTAIL Washable Pee Pads for Dogs
Medical Milestones to Follow the First Year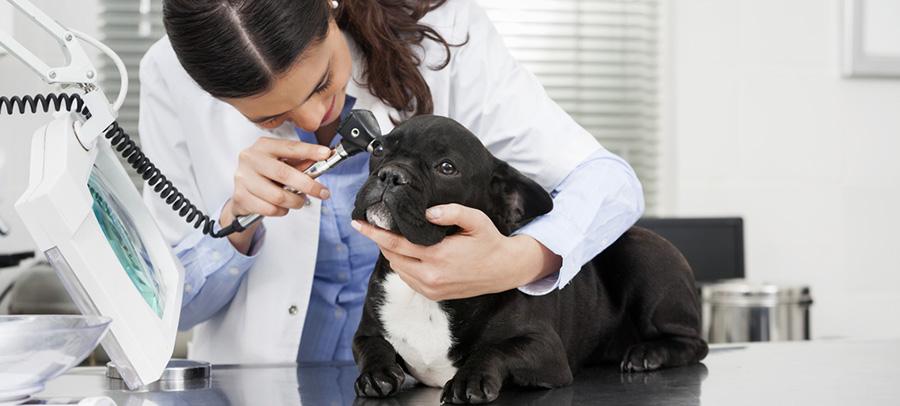 Start your puppy's life off right with proper and consistent veterinary care. Your puppy should make their first trip to the vet between six and ten weeks old. After their first set of vaccinations are complete, they will return on a yearly basis unless your veterinarian recommends otherwise. You'll also want to consider spaying or neutering your puppy and having a microchip placed in their first year.
Vaccinations
You want to give your puppy the best life possible, which means using preventative medicine to protect them from illness. Your puppy will need their first vaccines at seven to eight weeks old.
Most clinics will offer a puppy plan which guides you through the vaccines at the correct intervals. While adult dogs only need boosters once a year, puppies need a series of vaccines to build up immunity. Your puppy will need to be immunized against the following:
Distemper
Rabies
Hepatitis
Parvovirus
An additional optional vaccine to consider is bordetella. Bordetella is used to prevent kennel cough. If your puppy goes to dog parks, training classes, or has other opportunities to interact with other dogs you'll need to have this vaccine administered.
Heartworm Prevention
Your puppy should be started on heartworm treatment at around eight weeks old. Fortunately, there are combined heartworm and flea treatments to cut back on the number of medications you need to give your pet.
Common brands recommended by veterinarians include:
Heartgard
Tri-Heart
Interceptor Plus
Trifexis
Heartworm medication usually costs around $32 to $56 for a six month supply.
Flea Prevention
Most flea prevention options shouldn't be used on puppies under the age of eight weeks. There are a number of options on the market for older puppies and adult dogs. Talk to your vet about prevention options and frequency.
Flea prevention is generally prescribed based on weight and often is used on a monthly basis. Common flea prevention options your veterinarian can prescribe include:
Trifexis
Bravecto
Comfortis
Fleas can get out of hand quickly and are the cause of extreme discomfort in infested dogs. It's best to get onto a consistent flea treatment plan as soon as your puppy comes of age.
Schedule Your Puppy's First Appointment
Scheule your puppy's first vet visit.
Accessories & Extras You'll Want for Your New Puppy

Part of the fun in having a new furry family member is showing them with toys, treats, and other fun tidbits. Whether it's useful or just for fun, here are the top accessories you'll want to buy before your new puppy arrives.
Harness
Harnesses are great for corralling puppies who haven't quite mastered leash manners. Using a harness also allows for:
Better control of your dog in busy areas
Reduced straining on dog's neck due to pulling
Discouraging pulling
Cutting back on escape artists with more secure straps
Be aware, your puppy will be doing tons of growing in their first year of life. This means they may shoot up through the harness sizes. Try to find a harness that has a wide range of adjustments to accommodate your puppy's growth. It that isn't an option, opt for less expensive harnesses. Save investing in a fancy harness with all the bells and whistles for when your dog has stopped growing.
Whether you use the harness occasionally or daily, it can be a beneficial tool in your puppy-raising arsenal. Take a look at these options:
Doggy Gate or Playpen
You'll be impressed with how much destruction your little pup can cause when left alone for a few minutes. You won't be able to watch your pet 24/7. If you need to focus on other tasks, bringing in the assistance of a doggy gate or playpen can keep your puppy contained and out of trouble.
Depending on how small your puppy is when you bring him home, you'll likely need to start with a playpen. This will block off a small section in a room completely contains and puppy-proofed.
As your puppy gets bigger you'll need to expand their roamable space. Setting up doggy gates will give your pet more place to wander without giving them access to your entire home. You can find these for relatively cheap if you don't want a fancier model with a built-in gate. If you want to splurge, there are models with built-in walkthrough gates including separate slidable cat doors.
Check out the following options to determine the best match for your space:
Multi-door: Carlson Extra Wide Walk Through Pet Gate with Small Pet Door
Clicker
A clicker or marker will be useful as you begin teaching your puppy right from wrong. When used correctly, clickers help to associate the sound of the clicker with a treat or praise.
These can come in a variety of options from basic to more deluxe models but you can easily find one for under a dollar.
It will take some adjusting and research on your part to understand exactly how to implement clicker training into your puppy's training routine. Just remember, it's in the timing of the click. If you need help, most dog trainers will be familiar with and able to assist you as you learn alongside your puppy.
Bitter Apple Spray
Taste, touch, and sound can be used as aversives during training – bitter apple spray falls into the taste category. You can use bitter apple spray to deter undesirable behaviors like licking or chewing on items in your home.
Note: This is a useful product to have on hand but should never be used in access. Never rely only on bitter apple spray or other aversives. Always pair these methods with other obedience training.
Here are some brands to try out:
Stain Remover & Enzyme Cleaner
In a perfect world, you wouldn't need to worry about carpet cleaners and stain removal. But your puppy is bound to have a few accidents along the way to becoming fully potty-trained.
Arm yourself with stain removers created specifically for pet stains. This will help to fend off pet-related odors.
Using enzyme cleaners will aid in potty-training by eliminating scents only your dog can pick up. If she's had an accident once and you clean it up with a regular household cleaner, chances are she'll have an accident there again. Why? Dogs can pick up on scents where they've gone before and it can be enticing to use the same spot again.
Nature's Miracle is one example of a pet cleaner good for removing those lasting scents and stains.
Dog Toys
Part of the joys of pet parenthood is showering your pup with their favorite toys. You'll quickly learn whether they prefer tennis balls over frisbees and rope toys over squeaky toys. Toys offer entertainment for your puppy. Without it, they may seek out entertainment on their own which could result in chewed up shoes. Dog toy brands are generally good about identifying if toys are suitable for younger dogs. Find interactive and puzzle toys to keep your puppy's mind occupied. Stimulating their brains can keep them from taking out boredom on your favorite possessions.
Warning: As your puppy gets older, stronger, and more intent on "killing" their toys, you'll want to keep a close eye on the state of each toy. Squeakers, broken off rope strings, and other bits of toy can turn into an expensive vet bill if consumed by your puppy.
Take a look at these dog toys your new puppy may enjoy:
Treats
Your puppy likes treats and you like giving them treats. It's a win-win, right? As long as you are giving your puppy the right treats for their age, treat time won't result in any trips to the vet.
Here are a few things to keep in mind when selecting a pack of treats:
Avoid treats too large that could become a choking hazard
Avoid certain preservatives and ingredients
Avoid treats too hard that could damage teeth
You'll also want to consider what you're using the treats for.
Training treats are best when soft and small. Soft-baked and freeze-dried treats in bite-sized bits allow for quick consumption while training. Plus, they tend to have a stronger scent making them a stronger motivator to do the command you're asking for.
Slow-eating treats should take some time for your dog to chow down on. You'll want to use these while your puppy is in his crate or to occupy him while you're busy. Watch out for treats too hard for your puppy's teeth. A KONG is a good option for a puppy as the rubber material isn't too tough on teeth.
Teething treats are designed to be longer-lasting. Ensure the teething treats you buy aren't too tough for your puppy. You don't want them to damage their teeth as they come in.
Dog Shampoo
Most shampoos made for dogs can be used on puppies as long as it is a non-medicated shampoo. You'll want to stay away from any strongly scented formulas or human shampoos as these can become irritates to a puppy's delicate skin.
At six weeks old you can begin bathing your puppy in the tub, sink, or outside when the weather is warm enough. Ensure you aren't bathing your pup too often as it can strip the oils from his fur.
Try out these puppy shampoos:
Extra Grooming Supplies
Your dog's coat type and your personal preferences will guide you to how many or how few grooming items you'll keep at home. It's good to keep the following items on hand for basic care:
Comb
Conditioning spray
Towels
Toothpaste and toothbrush for dogsPreparing for a new puppy doesn't stop with a shopping list. You'll need to think through things like puppy-proofing your home and whether you want to take them to puppy daycare facilities to socialize. Here are some of the top considerations to think through before bringing your puppy home.


Training

Your puppy's attention span will be short, but you can begin training as young as seven to eight weeks old. It's actually better to start training and socializing your puppy from a younger age rather than waiting until they're older.

You should start out with simple commands, like 'sit', 'stay' and 'down'. Always keep the sessions brief, surpassing no more than 10 minutes of focused time at once. And always end your training sessions on a positive note.

Training Types

Training comes in a variety of types – you'll need to determine which training is best for your pet. At the very least, all dogs should have obedience and behavioral training.

Obedience Training – This is the style of training most of us think of when we think of training our pets. It's the act of teaching your pet a variety of commands and signals to achieve the desired action. This is appropriate to teach young dogs and all dogs should have some form of obedience training.

Behavioral Training – This is a basic style of training that teaches your puppy to be a better canine citizen to both you, other humans, and any dogs they encounter. Behavioral training addresses things such as jumping up, chewing, and potty training.

Agility Training – This is an advanced level of training generally practiced by those competing in dog sports. But, even if you're not going to compete anytime soon, your dog may benefit from beginner level agility training. This is a great bonding experience for both dog and owner. Plus, it acts as an excellent mind and body workout.

Training Options

You have a few options when it comes to training your dog and luckily there are a wealth of resources available. You can opt to DIY your dog's training using resources found online to guide you. This is good for those with young puppies just getting started and those who have particularly obedient pets. Other options are doggy boot camps, group classes, and one-on-one professional training. Offerings will differ depending on your location but can be great for more extensive training needs.

Different dogs have different temperaments. You may find your dog is obedient and eager to please. Or your dog could turn out to be a bit of a rebel. If your dog is a handful and just won't listen, never feel bad about reaching out to a professional for guidance. A dog trainer will be able to train your dog and teach you how to get the desired behaviors on your own.

Socializing Your Puppy

Socializing your puppy with other dogs and people will help them learn to be polite canine citizens. Develop a game plan prior to bringing your puppy home to give yourself an idea of how many socializing opportunities you can provide on a weekly basis.

Here are some ideas to get you started:

Visits to the dog park
Taking your pet to pet shops
Go out to eat at a dog-friendly cafe
Schedule puppy play dates or trips to the local dog park

You'll want to expose your puppy to the following situations:

Unfamiliar people
Other dogs
Body handling (holding their feet, touching their eyes, etc.)
Vehicles
Different flooring and terrain
Cats

The first introduction to any scary, unfamiliar situation will take time for your pup to adjust to. Be patient and over time you'll find your puppy will become more relaxed in different situations. It's important to prepare them for a variety of interactions as it will not only lead them to a better quality of life but it can also be life-saving in emergencies.

Avoiding Parvovirus

Parvovirus develops rapidly, showing symptoms 3 to 10 days after exposure. The virus is highly contagious and can be contracted via direct contact with an infected dog or indirect contact with a contaminated object. Puppies can contract parvo simply from interacting with a person who has been in contact with an infected dog.

This virus can be fatal and should be a top concern for puppy owners who have not yet started or completed puppy vaccines guarding against the illness. Here are some measures you can take to protect your pup:

Ensure your puppy begins receiving their vaccines at six to eight weeks old.
Keep your puppy from interacting with unvaccinated dogs.
When visiting areas frequented by other dogs, like vet clinics, carry your dog from the car to the lobby. Once inside, keep your dog on your lap rather than letting him wander around on the floor.
After interacting with other dogs, change your shoes and clothing when you interact with your own puppy. You should disinfect your hands as well.

Signs to watch out for that could indicate puppy has contracted parvovirus include:

Bloody diarrhea
Lethargy
Loss of appetite
Vomiting
Rapid weight loss

If you suspect your puppy may have contracted parvovirus, contact your veterinarian immediately. Your puppy will need professional care to recover fully from this potentially deadly virus.

The list of supplies, accessories, and intangible items that goes into raising a canine from puppy to adult is endless. In fact, the average lifetime cost of raising a dog is $23,410. Depending on the size of the dog breed you adopt the first year will result in $2,600 to $3,000 worth of expenses.

Have a puppy-specific item you can't live without? Leave it in the comments below!

Contact Us